Ladies and gentlemen, friends and guests of Varna!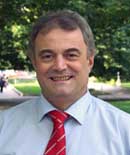 For all of us, who were born in this 26th-years old city at Black Sea, Varna is not only birthplace, which we love. It is a fate and divine caress, granted to us by Neptun, and a miraculous rendezvous between the history and modern times, and widely open gate to the world...
In its capacity of cultural, historical, economic and tourist center of Bulgaria, Varna will embrace you with European spirit; it will meet you by tolerance and sincere hospitality. It will provide you with spiritual values and charming beauties for your heart and eyes. Our bright sun and blue sea will complete the enjoyment of the holiday at the Black Sea shore.
The pages that follow are not only traditional invitation to visit our unique city, it serve as our "Welcome!" in the sea capital of Bulgaria.
Kiril Yordanov,
Mayor of Varna